HubSpot & Docue integration accelerates the drafting and management of sales contracts
Auntie provides employees with low-threshold support for stress, overachievement, and finding lost motivation. Conceptual service packages are based on online meetings with Auntie's mental health professional. Auntie's services are used by over 500 organizations, ranging from small expert companies to large global corporations and public sector organizations in Finland, Norway, Sweden, the Netherlands, Germany, and Poland.
"The collaboration with Hurja was effortless and pleasant. The specification phase was smooth, and as a customer, I didn't feel the need for technical background knowledge. Understanding our own business was a sufficient starting point. As a customer, I've felt that I can ask anything and receive quick and comprehensive answers, even after implementation."

Hoiman Tang, CFO, Auntie Solutions Oy
Requirement
Auntie has centralized its marketing, sales, and customer service processes in the HubSpot ecosystem, which enables managing the entire customer relationship in one system. This opens up entirely new possibilities, such as broader marketing and sales automation, reducing manual work and freeing up salespeople's time for better use.
However, HubSpot did not provide Auntie with contract automation equipped with sufficient features. Therefore, it was important for them to choose a new tool that could be integrated with HubSpot. In the integration project, Auntie's goal was to create a user-friendly and manual work-minimizing implementation for salespeople, where all the essential information needed for contracts would be transferred directly to Docue's contract template. This included the ability to send contracts for signing directly from HubSpot, without the need for separate login to Docue. The HubSpot & Docue integration project was initiated by Docue's desire to offer Auntie a solution tailored to their specific needs for contract drafting and management.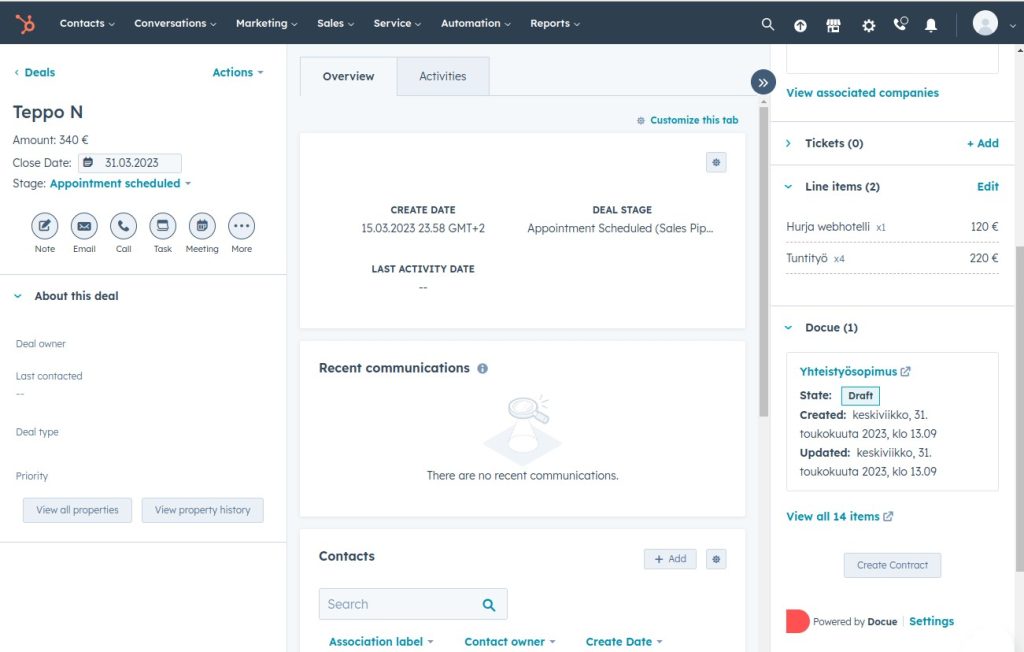 Solution and Implementation
Docue is a SaaS service created by Docue Technologies for automated contract drafting, signing, and management. Docue's versatile interfaces and partnership with Hurja enabled the agile initiation of the project. In integration projects, effective partnership and proper specification are particularly important, as projects are generally implemented in existing information technology environments where stakeholder needs may vary significantly.
The project began with a joint kickoff meeting involving all three companies, where needs, desires, and realities were discussed. Due to the strong interface provided by Docue and Hurja's familiarity with the system, the kickoff meeting could focus heavily on Auntie's needs and HubSpot, as the technical aspects towards Docue were already clear based on previous collaboration. Since this integration project also involved reshaping business processes, it was important to start from a business understanding rather than technical considerations.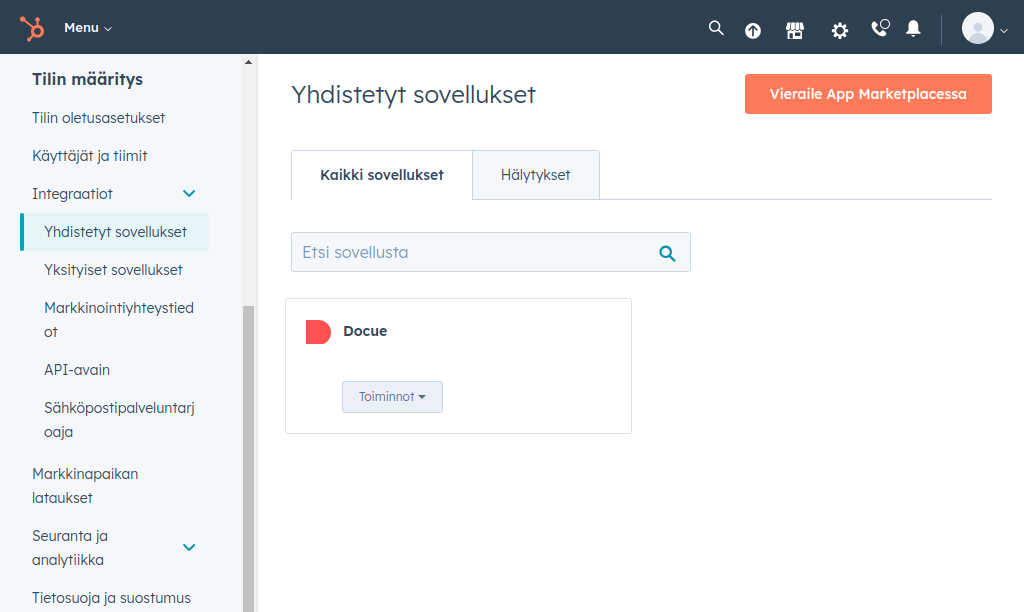 HubSpot App Extension
A custom, client-specific integration extension was developed to meet Auntie's needs, which was installed within the HubSpot system. The extension seamlessly transfers won deals in HubSpot, including customer and product information, directly to Docue's contract automation without requiring manual entry by the salesperson. Hurja also takes care of the ongoing technical maintenance of the integration extension, allowing Auntie to focus on its core business. The integration extension can be easily implemented for other HubSpot and Docue users as well.
Benefits
The implemented integration extension in the project helps salespeople focus on what matters most: selling, by eliminating manual data transfer for contracts. Additionally, previous contracts are directly visible in HubSpot within customer records, eliminating the need to separately search for contracts in Docue. Through the integration between HubSpot and Docue, Auntie's salespeople can automatically generate contracts for signing without manual steps.
By leveraging system integrations, costs are reduced, repetitive manual tasks are minimized, and the potential for errors when transferring data between different systems is decreased. Automation and integrations play a crucial role in business development, improving efficiency, and supporting decision-making.
Would contract automation or a specific integration ease your company's daily operations? Get in touch, and let's discuss further!