Headless Technology-Powered Web App Connecting Landscaping Professionals and Clients
"Collaboration with Hurja has been seamless. Quick email responses and effortless remote meetings are a plus. Identified areas for improvement are addressed together, finding suitable solutions promptly, while always listening to the customer and avoiding unnecessary extra services. In summary, we can only be content with the partnership.

Roope Kauravaara, Piha-Online
Piha-Online.fi is an online platform bringing together landscaping service providers and clients in need of their services. Through Piha-Online, one can easily find and compare all local landscaping service providers according to personal requirements. Additionally, the service offers up-to-date blog articles and tips for managing one's yard, including selecting the right tools.
Piha-Online's long-term goal is to become Finland's leading online platform focused on landscaping services. The aim is to establish a comprehensive web service for the landscaping and gardening industry that is fair and embraced by users, inspiring daily use. The central objective is to assist both landscaping service providers and their clients, continuously enhancing the service to meet diverse user needs.
Requirement
Roope Kauravaara, the founder of Piha-Online, recognized several areas for improvement in the process of bidding for and ordering landscaping services, based on his experience as a property management entrepreneur. Clients ordering landscaping services found it challenging and time-consuming to locate a suitable worker for the job. Many mentioned the difficulty of navigating multiple company websites to ensure they offered the required service and then verifying if they operated in the area. Not to mention the time spent sending numerous emails and request forms for quotes. Many customers expressed a desire for a convenient website that would allow them to easily find all nearby service providers and quickly compare them.
Piha-Online was born as a response to these identified needs, which emerged through networking with fellow entrepreneurs in the same field and in hundreds of conversations with customers in need of landscaping services. Market research confirmed that a similar service solely dedicated to landscaping was not available in Finland. Based on this information, the search for a software company began — one capable of creating a web application that could be flexibly developed and provided a secure user experience. From the start, Hurja stood out with its professionalism and reliable approach. It was important to Kauravaara that the project was taken seriously from the outset, and the software company clearly demonstrated its commitment to supporting Piha-Online with its strong expertise. For these reasons, Hurja was chosen.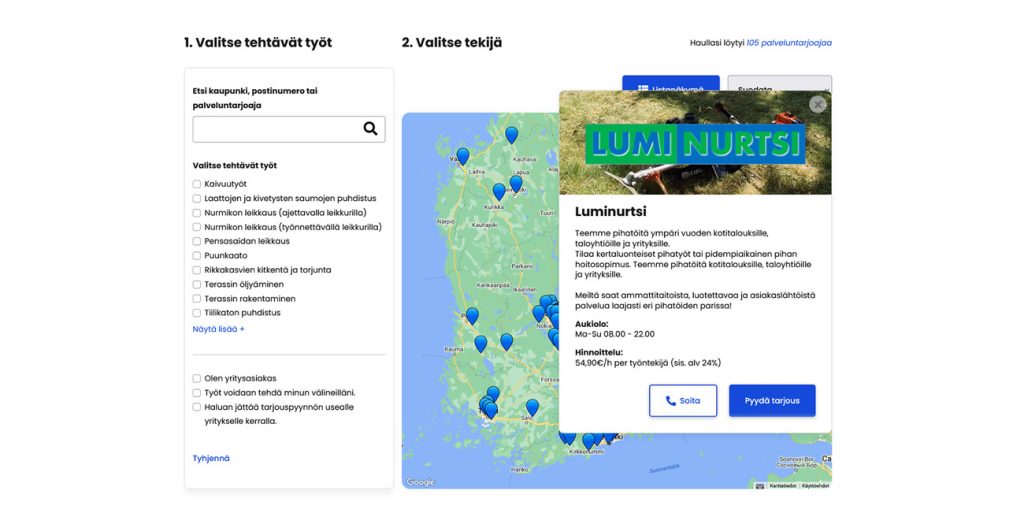 Solution
The project began with UI/UX design. The client already had a vision of the necessary views for the service. Based on these ideas and preferences, the plans were refined. During UI/UX design, Piha-Online was transformed into a functional entity by enhancing the user experience, considering different user groups, and creating an entirely new visual identity for the service. The goal was to make the service simple and fast to use, providing a smooth experience for different users on both mobile phones and computers. The central function of the entire service is searching for services; thus, designing its usability was a significant focus during UI/UX design.
Piha-Online was developed as a modern headless web application, providing users with an easy-to-use alternative to traditional mobile applications. This architecture differs from the traditional monolithic approach, where the frontend (user interface) and backend (server) are tightly interconnected. In the headless architecture, these two parts are separated. Using Piha-Online is extremely straightforward and effortless for users. The service opens directly in the browser, eliminating the need to download a separate application. This adds convenience and flexibility to the user experience. Additionally, browser usage ensures excellent scalability for different devices, offering a seamless experience on both computers and mobile devices.
The technical implementation utilized Contentful as the content management system and the Next.js framework, allowing for a dynamic and fast user experience thanks to its headless architecture. Due to the headless implementation, Piha-Online is an efficient and flexible web application suitable for versatile further development. This enables the integration of new features and the adaptation of existing ones. This technological choice offers the opportunity to create tailored solutions to meet individual customer needs. As an additional service, Piha-Online was equipped with web analytics installation and conversion points, along with an SEO strategy to enhance continuous search engine visibility.
Benefits
Piha-Online is an innovative web application that provides an easy and space-saving way for users to access landscaping-related services. The technological foundation ensures performance and flexibility, enabling development as needed. We also take care of Piha-Online's technical maintenance after the project. Maintenance of separate development and production environments ensures smooth development as the operation expands.
"The collaboration with Hurja has brought a lot of confidence to the development of Piha-Online. When you know that professionals are implementing the ideas, you dare to suggest even the wildest ones. The greatest benefit from working with Hurja has been their versatile expertise."
"If a given idea doesn't completely convince the developers, they often propose an alternative approach for moving forward. As a customer, I feel I have received highly individualized service, and it's clear that they always aim to serve the customer's best interests. Most importantly, Hurja can provide skillful ongoing development with quick responsiveness."

Roope Kauravaara, Piha-Online
We are here to find a suitable solution for you as well when you need modern digital solutions to realize your business idea. Feel free to get in touch!